Tips For Making it Out of a Haunted Corn Maze Alive
September 10, 2016 By Kelly T
Check out these tips before you go get lost in a corn maze this Halloween season.
Photo by:
chrisjtse via Flickr.
For eager scare-seekers this Halloween season, one activity not to be passed up is venturing in, and attempting to venture out, of a haunted corn maze. With high maize walls that you cannot see over, the unnerving sound of rustling, the fall of darkness and threat of costumed actors jumping out at you at the turn of every corner, haunted corn mazes are not for the faint of heart.
Are you ready to go get lost in a haunted corn maze? Then check out these helpful tips before you do and go have a scary-good time!
If you're navigating the haunted corn maze with friends, stick together! Sure, it may seem like splitting up to find the exit would be the best route to take, but don't forget what happens in scary movies any time a group decides to split up. Bad things have a tendency to happen! There are power in numbers, so make sure your group sticks together until the very end. Also, if you're going in solo, tag along with another group!
Bring a compass with you! Many smartphones have a compass built into them so anytime you feel like you're walking around in circles, take it out and check what direction you are going so that you have a better idea of where you've gone and where you're heading!
Wear proper foot attire! Heeled or open-toe anything are not proper foot attire for trying to make your way through a haunted corn maze. Be sure to wear sneakers, boots, or perhaps rain boots depending on the weather. The last thing you want to do is hurt yourself in the dark while in the scare-filled maze because of your shoes!
Don't be afraid to make direct eye contact! Most actors in haunted attractions are looking for the person that they will scare the most, so if you've got your head down or are refusing to look at the actors, there is a better chance they they will choose you as their next scaring target! Keep your head up, your eyes open and don't break that stare!
Have a good time! Sure you're going to get scared, but that's why you're going to a haunted corn maze and that's what the maze designers, and actors are there to do! Go all in, let out a blood-curdling scream, jump back 5 feet when something pops out, and just remember that you only have so much time in the maze, enjoy every second of it.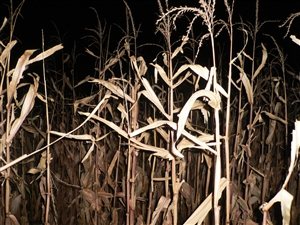 Photo by Hubs, via Flickr


Have some Haunted Corn Maze tips you'd like to share with us? Comment below!